Set List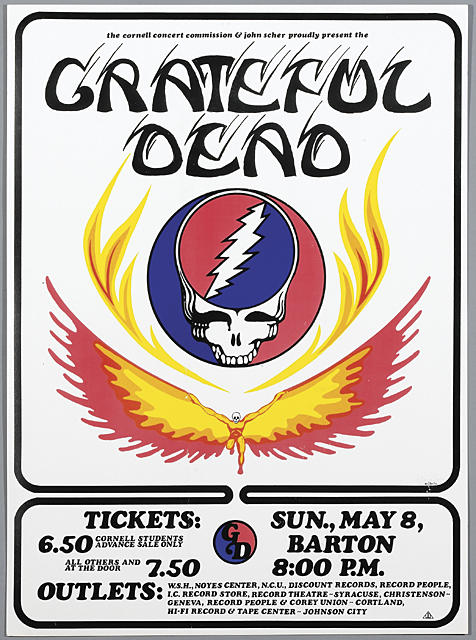 New Minglewood Blues
Loser
El Paso
They Love Each Other
Jack Straw
Deal
Lazy Lightnin'
Supplication
Brown Eyed Women
Mama Tried
Row Jimmy
Dancin' in the Streets
Scarlet Begonias
Fire on the Mountain
Estimated Prophet
St. Stephen
Not Fade Away
St. Stephen
Morning Dew
One More Saturday Night
Show Notes
Thoughts on an Epic Show
By Jawal Nga
The show was on Sunday at 8pm. Nothing special about this particular Sunday. It was like countless Sundays before and the more than a thousand since. The #1 song on the radio was "When I Need You" by Leo Sayer. The country was sitting down to watch "60 Minutes" or "The Castaway Cowboy" with James Garner on NBC.
Remember that film? No, neither do I.
But for a few hours that night, in a gym at Cornell University in upstate New York, the Grateful Dead achieved a sound not unlike what F. Scott Fitzgerald must have imagined to be that of a "tuning-fork that had been struck upon a star." To believe in something is a wonderful thing. Some believe in God or Buddha or Babe Ruth. I believe in May 8th, 1977. For between 8pm and 11pm there was no greater good than what they created.
The Scarlet > Fire transition is all that it is made out to be. And the Morning Dew is, at its climax, a veritable Everest. The long post-chorus jam in Not Fade Away back into St. Stephen is the closest thing to Jackson Pollock's "No. 5" as you're ever going to hear. Everyone is soloing. It is cascading notes and nuances. It is Jerry then Phil then Bobby and Billy and Keith and back again.
That onslaught reminds me of 1969-era versions of "The Eleven." When all is lost, irretrievably broken, simply totally beyond repair. And then suddenly, as if turning on a dime, the way out is found and all isagain right with the world and the song. Jerry's runs up and down the fret board split notes and compress others as he does his best to convince anyone listening that two plus two can sometimes equal five. Another night to remember with the band beyond description.
As someone who was there once told me, "When they came back out for the second set they were all smiling. Like they knew something we didn't know. Or didn't yet know. But soon did, of course. And then at the end of the show, we all walked outside and it was snowing. It was May!"
To be continued...
Jawal Nga is a film producer based in New York City. Here he shares his perspective on this Epic Dead Show, based in part on interviews he conducted with several attendees.
---
For another perspective, check out Why Dead Heads Love Barton, from the May/June 1997 issue of Cornell Magazine.